Fun Ways to Keep Your Stay at Home Boredom at Bay
smartfutureAdmin 26 March, 2020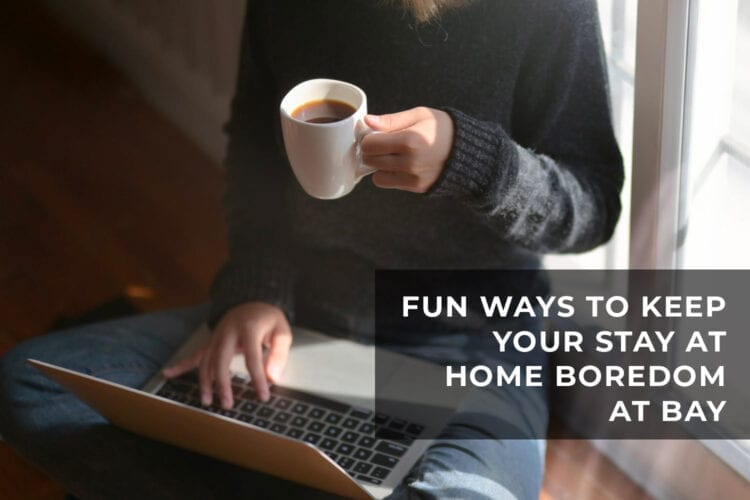 The COVID-19 outbreak across the globe have seen millions of employees worldwide migrating from their workplace to home, many for the first time. Corporate enterprises are making the concerted efforts to fight the coronavirus outbreak by encouraging or enforcing their employees to work from home – a move strongly encouraged by medical experts in reducing the spread of the virus.
While staying at home can be comfortable for some, studies have shown that staying at home for a prolonged period of time can be detrimental to both physical and mental health. Separate studies of quarantined patients of SARS, the 2003 coronavirus outbreak in 2003 have seen an onset of post-traumatic stress disorder (PTSD) in China healthcare workers at 10% and in Canda, symptoms of PTSD and depression – observed in 28.9% and 31.2% of respondents, respectively.
However, as the situation progresses, more and more people are facing the prospects of quarantine, social distancing or working from home. Here are some ideas for yourself to adapt to the new normal.
Workout Video Game
For the uninitiated, workout video games corporate gameplay with fitness elements that not only help players to feel good mentally but also physically. Some titles have shown results of player drastically losing weight over a period of time and like with most of the games played moderately – video games have shown to help those who suffer from mental disorders such as anxiety, depression, antisocial personality disorder (APD), attention deficit hyperactivity disorder (ADHD), post-traumatic stress disorder (PTSD) and Alzheimer's disease.
Here are some top-selling titles to get you started: Wii Sports (on Wii), Just Dance (Wii, Wii U, PlayStation 3, PlayStation 4, Xbox 360, Xbox One, iOS, Android, Nintendo Switch, Microsoft Windows, Stadia), Ring Fit Adventure (Nintendo Switch), Shape Up(Xbox One), and Creed: Rise to Glory (Oculus Quest, PlayStation 4, Microsoft Windows).
Online Streaming Exercises
With the latest announcement of the Singapore government limiting outdoor activities, many are finding alternatives to change up their workout routine. Luckily, there are tons of free-to-stream videos workout online that you can even mix up with different instructors or to incorporate a new regimen in exercises.
For the first-timers, here are some Youtube Channels to check on:
For the Pilates-lover: https://www.youtube.com/user/blogilates/featured
For those that like to move along: https://www.youtube.com/user/popsugartvfit
For the dancing queens: https://www.youtube.com/user/TheFitnessMarshall
For those that like AI: https://www.youtube.com/channel/UCDUlDJcPPOOQK-3UrxEyhAQ
And lastly, for the chill yogi: https://www.youtube.com/user/yogawithadriene/videos
Starting a new hobby
Starting a new hobby can be scary – devoting hours of your life and then realising that – maybe this is not for me after all and then give up on it can get depressing after a while. Finding a hobby is a journey but once you find it, you will see how it excites you and motivate you towards different goals. If mindless hobbies are not your way to go, try something practical like soap making, baking, or restoring furniture.
Trying new recipes
While juggling work, kids and home duties are tough, you do not have to worry about burning down your kitchen trying new recipes. Simple recipes such as the latest trend of Dalgona coffee (the recipe takes less than 5 minutes) or Mason Jar Salad can be an easy and quick way to get you started. Who knows, you may even become the next power food Instagrammer!
Additionally tip for your next grocery run – do not forget to incorporate some nature's immunity boosters into your list.